This week, we are exploring the story of this intrepid spirited engineer that prompted his daring move 'aha' moment when he knew The Netherlands was the next port of call.
Göksel is a a seasoned Plans & Outfits engineer, whose career has been an extraordinary voyage from Turkey to The Netherlands.
Based at Damen Yachting, renowned for its impressive mega yachts stretching from 60 to 120 meters, Göksel is at the helm of crafting maritime masterpieces.
1. Tell us about your journey to The Netherlands, how did you end up here?
I used to work for a mega yacht company in Turkey called Turquoise Yachts. It initially crossed my mind to move to The Netherlands or another foreign company. So, I contacted Marina, a former Middle Point recruiter. And after a couple of rounds of interviews, here I am now! The whole process took just two weeks.
2. Did you have an 'aha!' moment when you knew that you had to relocate to The Netherlands?
When Marina told me there were companies interested in hiring me, I didn't hesitate. I felt that experiencing different cultures and their ways of doing things would expand my horizons. I'm still in the early stages of my career, and I wanted to learn how different cultures approach tasks. I didn't think twice about it! When I first arrived in Amsterdam, I didn't even know where I was, honestly. I just moved here without much thought.
3. That sounds very courageous! So, tell me, what aspect of Dutch life or work have you come to appreciate?
I've come to appreciate the Dutch approach to organization, planning, and efficiency. Their ability to plan and execute tasks impresses me. They like planning so much that I think some Dutch people can schedule their holidays two years in advance! This mentality extends to their work life, where planning is a top priority. It can be both frustrating and beneficial, but it creates a great working environment.
4. Living in a different country can change one's perspective. How has living in the Netherlands changed your perspective on life, work, or the world in general?
Living here has changed my perspective immensely. It's my first time living in another country, and it's been almost two years. The differences in daily life, like shops closing on Sundays and evenings, took me some time to get used to.
Also, I come from an area in Turkey with year-round sunshine, so adapting to the Dutch weather has been a challenge. But I've also noticed the kindness and helpfulness of Dutch people, which has made me feel comfortable. Go to the supermarket? People are nice. Go to a restaurant? People are nice! It has now come to the point that even when I travel to other countries, I feel like the Netherlands is home when I return!
5. Can you share a professional or personal skill that you've developed since moving here that you might not have otherwise?
I've developed several skills, both professionally and personally. Personally, I've become more independent since I moved here, living by myself without the comfort of calling family or friends for help.
Professionally, I've learned to create technical details and plans for yachts, ensuring they meet safety regulations and quality standards. I've also improved my engineering skills through the guidance of experienced colleagues.
Damen yachting is happy to teach me new things. For example, we are working with different software that is meant for different types of designs, they are happy to teach me everything! On top of that, Damen Yachting has more than 100 years of expertise in yachts, accumulating a vast wealth of expertise in the field. It's a great opportunity to be able to work with them.
6. What is your proudest achievement?
So, I went to Monaco with my partner, we were walking around the marina, and there it was! The 'Come together' yacht that I had worked on! (Göksel says with the biggest smile.)The feeling of seeing your project in commission is nice. And, especially being in Hercule(s) Bay, the best place for the yachting industry! It felt really good.
7. In the context of the yachting industry, what aspects would you prefer to change and which ones would you like to stay the same?
I would like Yacht Design to not get too inventive or futuristic. Sometimes, I would see designs on social media, some are really nice, but a lot are so futuristic that they don't look like yachts anymore. They look more like spaceships than yachts.
What I would like to change is on the subject of emissions. I hope we can find ways to reduce them. We see more rules and regulations that make the yachts more sustainable. Another significant change would be for fully electric propulsion systems; we do now see some hybrid boats so that is a start.
Funny enough, sailing is a very sustainable option! Old school solutions are ironically the best ones sometimes.
8. What do you believe is the most valuable lesson about living as an expat has to offer?
It will teach you to step out of the safety circle that you are used to. Overcoming that struggle and figuring out how to solve these problems creates a stronger person in any perspective.
9. What advice would you give to a potential expat?
Don't hesitate, don't even think about it. Just do it! Nike was right all along.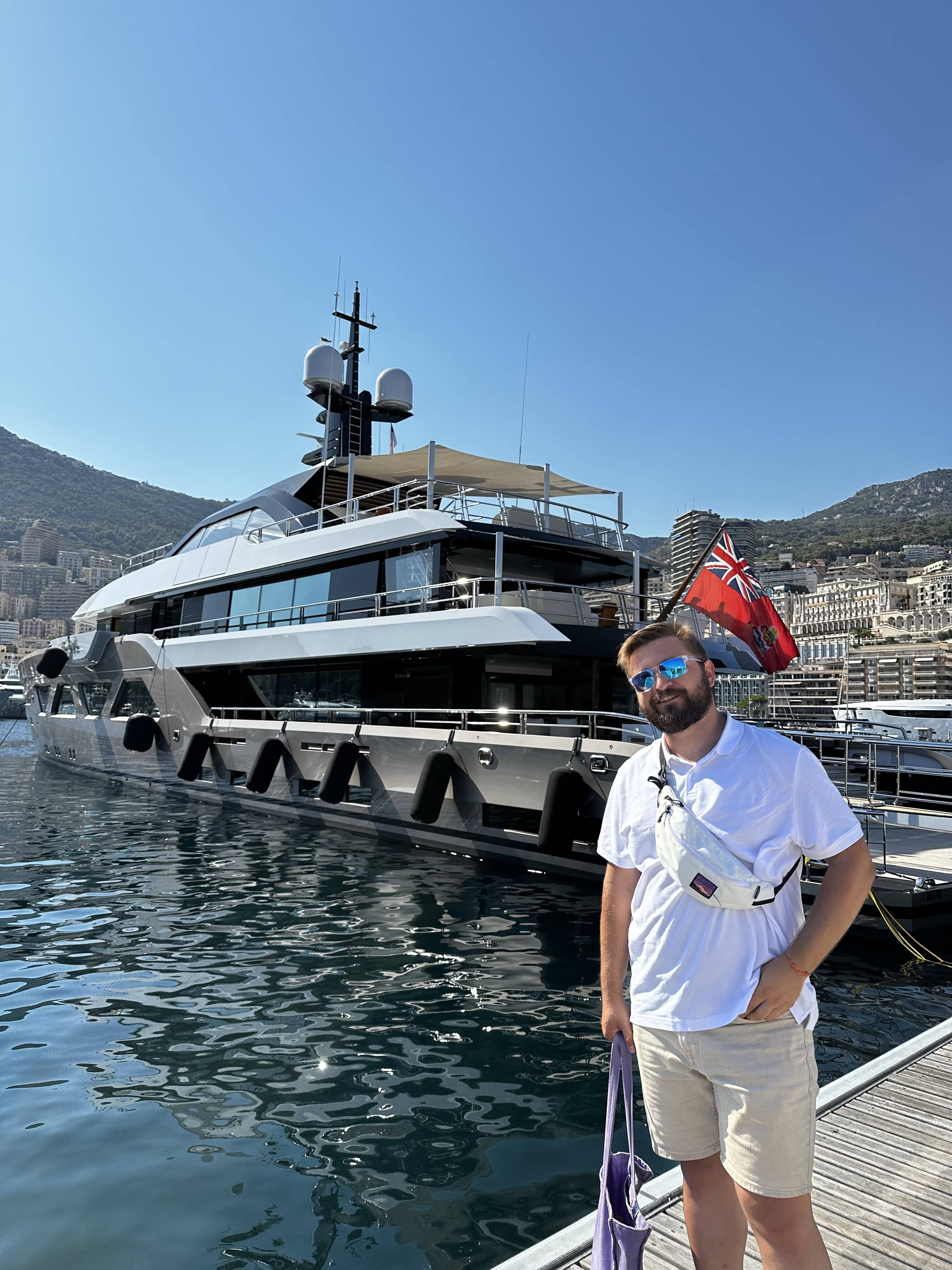 As we conclude this interview, Göksel's story teaches us that stepping out of our comfort zone can lead to personal and professional growth. His bold decision to relocate to The Netherlands has opened doors to new experiences, skills, and perspectives. Whether it's adapting to Dutch planning precision or cherishing the warmth of Dutch kindness, his adventure reminds us that life's greatest lessons often come from embracing the unknown!
Has this story inspired you and you would like to have a similar one? Take a look at our vacancies and who knows, you might be featured here next!